Happy Birthday NHS: what are you wishing for?
By Professor Hamish Laing, surgeon and Executive Medical Director of ABM University Health Board
The National Health Service (NHS) is seventy this week and I've just realised that I've worked in it for half it's lifetime. In those 35 years I have seen incredible advances in the understanding of disease and in what the NHS does for patients and service-users every day. If we go back even further, to 1948 when Aneurin Bevan was founding the NHS and my Grandfather was a GP in the South Wales valleys, the changes are even more dramatic. All of this has brought longer and better quality of life for most: but, importantly, not for everyone. Worrying inequalities in health outcomes persist and in some places are widening. What's more, as many more people are living longer with several long-term health conditions, the strain on the NHS is beginning to show.
So, while rightly we celebrate loudly the achievements of our NHS as it turns seventy, we must also be careful not be complacent.
Among his thoughts on digital health, Hamish feels that people experiencing some of the more common health conditions are likely to benefit from this area of work first. Watch the video…
If Bevan were to look at the NHS today, I'm sure he would be amazed at all the new technologies, operations and treatments that we have available. But were he to examine how we provide those services for patients in 2018, he would find much that would be very familiar to him.
Too often, we talk about Primary care (GPs, dentists, pharmacists and optometrists) as if it is a completely separate part of the system from Hospital care -indeed many doctors say that communication between specialists and GPs is less good now that it was in the past. Most specialist care is delivered in large "outpatient" departments, located in busy hospitals, each provided with equally large rooms to wait in. And there is still a huge amount of paper! We have mountains of records folders, some stretching back to the start of the NHS itself. Most information is still transferred between clinicians in our hospitals, between specialists and GPs and between hospitals and patients by handwritten note or typed letter.
In 1971 Julian Tudor Hart, a GP who followed my Grandad into the same mining communities, published a seminal paper in the medical journal the Lancet. It was about what he termed the "Inverse Care Law". In it he said that "… the availability of good medical or social care tends to vary inversely with the need of the population served". Or put another way, those who would benefit most from health and social care are the ones who find it hardest to access it.  This does not sit well with Bevan's principle that "not only is [the NHS] available to the whole population freely, but it is intended . . . to generalise the best health advice and treatment".
It is commonly said that if you keep doing things in the same way, you will get the same outcomes. As the NHS enters its next phase it must change how it does things, and its relationship with communities. These changes will take many forms, not least in what Welsh Government in A Healthier Wales calls new models of integrated health and social care.
It must also focus more on which things make the biggest difference for patients and direct its money there, rather on things that add little value, or sometimes even cause harm. This approach of "value -based healthcare" depends on being able to measure the outcomes that matter from its patients; something the NHS has not been good at in the past.
Another major change will be more use of digital ways of working. This has become normal in the rest of our lives, and there has been some digitisation in the NHS of course (GP records being one obvious example), but there is a long way still to go.
Patients tell us that if we shared information about their health with them more, they could look after themselves better: something that is crucial for the future of the NHS and for sharing decision-making with them. If they had their own online health record that they could add to and share with others of their choice, such as family members, carers and other professionals, they could really start to be in control.  Do we really need everyone to come to the hospital (and try and park!) for an appointment with a specialist, particularly to monitor the progress of a treatment; especially if it is all going to plan? Could some of the care be provided online, by Skype™ or messaging? Can digital help us capture those vital outcome measures from our patients?
Could the NHS signpost people to reliable online health and wellbeing advice for everyone who might benefit? What about being able to make your own appointment (face-to-face or virtual) with the specialist team, take a last-minute cancellation or change the appointment, if something urgent comes up? Maybe your treatment could be delivered to you digitally? Looking a bit further ahead, what if a computer "bot" was helping you and your doctor to decide the best way to address your health need, using all the information you and the NHS has about your problem and the very best knowledge sources?
I hope that like me you think this all sounds like exciting progress. But what if you don't have access to the internet or a smart phone or don't feel confident to use digital tools in this way? There is a very real risk that instead of "generalising the best health advice and treatment" as Bevan had intended, we will create a new, digital inverse care law that excludes some citizens and communities from all that digital healthcare can offer. This could again create health outcome inequality, instead of closing the gap. Some call this "Digital Exclusion".
So, there are clearly moral reasons why we must make sure that everyone is helped to be digitally "included", and that includes our staff.  but there are sound "business" reasons too. If people can't use the new ways of working that will help the NHS to be sustained and improve, then this will limit the speed that changes can be made. What's more, we know that people who say they are digitally excluded become much better at looking after their own health and use the NHS much less after a programme of help with basic digital skills. It also improves their life-chances too.
So, as the NHS looks to the future, it must be careful that everyone has the same access and opportunity to benefit from it. It cannot just leave this to others to do but, as it turns 70, must work with its patients and staff and with partner organisations to ensure the highest levels of digital inclusion that can be achieved, for everyone sake.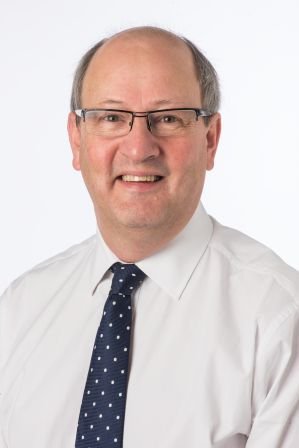 Professor Hamish Laing
Hamish Laing is a surgeon and the Executive Medical Director of ABM University Health Board, a large integrated healthcare organisation in Wales, and is its Chief Information Officer. He has recently been appointed as Professor of Enhanced Innovation, Engagement and Outcomes in the School of Management, Swansea University. He is writing in a personal capacity.
Twitter: @hamish_laing