Innovation at the BBC – lessons for digital inclusion
From Catherine Evans, Marketing Manager, Wales Co-operative Centre
I was fortunate this week to attend the Digital 2016 conference at the Celtic Manor in Newport. This annual event, which attracts around 2000 delegates, looks at how technology is shaping our future and revolutionising the way we live and do business.
Whilst many of the sessions were above my head (I'm no techy, so discussions around cyber security, blockchain technology and the semantic web were a bit beyond me) one session in particular struck a chord – and gave me a real lightbulb moment about how organisations could approach digital inclusion.
It was a session on 'Opening up Digital Innovation at the BBC', led by Robin Moore from BBC Wales; Robin Cramp from the BBC Connected Studio; and Oliver Spall from BBC Taster.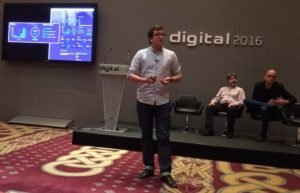 The BBC has a long history of innovation. From its beginnings in 1922 it has always been at the forefront of technical development, from the first outside broadcasts, to VHF, Ceefax, BBC iPlayer and beyond.
Over the years, it has run a number of initiatives to generate new ideas. The latest of these is the BBC Connected Studio, which began in May 2011 as part of the BBC's Research and Development department, which provides the inspiration, support and platform to keep the BBC at the cutting-edge of online innovation, and a world leader at delivering engaging, digital broadcast experiences.
With audience needs at the forefront of development, the first stage for the BBC is always to engage with audience members. The BBC Connected Studio does this through workshops and creative sessions which involve both audience members and people from the digital industries, to guide people through the idea-generation process. Typically, participants are able to develop their own visions, build a small scale prototype and pitch their ideas back to the group.
Following these events, further support is provided to develop selected projects into pilots that will appear on the BBC's platform, BBC Taster, to be tested. BBC Taster is the audience-facing platform that was built and is run through Connected Studio. It is a website that invites public audiences to try, rate and share the latest digital pilots from across the BBC, showcasing a range of digital tools, techniques and content. This website acts as a virtual 'sandbox', a safe space where new ideas can be tested and improved, before being rolled out on a mainstream platform.
Critically, the time between an idea being generated at a creative session and a digital pilot being run on BBC Taster is very short – some ideas are taken through a two week Studio Sprint for further development within the BBC R&D Lab. The BBC realises that it's very easy to see good ideas disappear into a black hole and never see the light of day (a scenario which is probably familiar to anyone working in the third sector who has attended an organisational business planning session!). It therefore takes a quick and dirty approach to prototyping things so they can be tested and either improved, rejected or released as soon as possible.
Underpinning this process, and its success, is a philosophy which could be applied to any organisation trying to tackle digital exclusion.
• Embrace innovation
• Involve your 'audience' at all stages
• Have a 'greenhouse' where new ideas are constantly germinated and nurtured
• Create a 'sandbox' so you can pilot things before they are rolled out more widely
• Measure, iterate and improve
• Build partnerships – the best ideas come from partnerships with other organisations, including those in the digital industries
Above all, the advice from the BBC to organisations who want to be innovative, is to be prepared to fail fast, but succeed faster.