Awen Cultural Trust provides digital volunteering opportunities for job seekers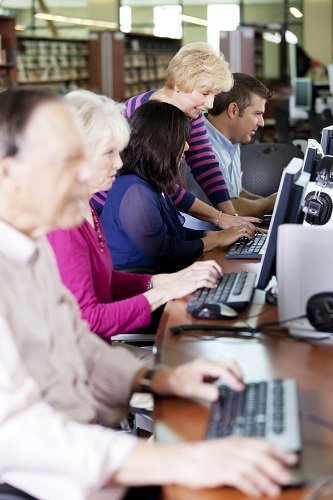 The volunteer work placement project in Bridgend libraries is a partnership project involving Bridgend Job Centre, Digital Communities Wales and Awen Cultural Trust which manages the participating libraries in Bridgend, Pencoed, Aberkenfig, and Pyle.
Awen Cultural Trust operates the libraries in Bridgend, as well as some community centre and other cultural buildings. It provides access to free Wi-Fi in its buildings and open access to computers. Library staff often provide advice and support to library users on digital and some libraries run group sessions supporting people to get online. Bridgend Job Centre Plus provides services to all Job seekers in Bridgend, including job searching and access to job seeker benefits.
Awen, Bridgend Job Centre and Digital Communities Wales developed a pilot project which enabled job seekers to take up a volunteer work placement in a number of Bridgend Libraries, focusing on digital inclusion activity. The project was developed in partnership with four libraries in Bridgend managed by Awen Cultural Trust, Bridgend Job Centre and Digital Communities Wales (DCW).
How we helped
Bridgend Job Centre promoted the work placement to their job seekers through the work coaches. Those interested where invited to an informal information session delivered by DCW and Awen Cultural Trust. The session enabled the job seekers to learn about the placement opportunities and the digital champion training which would be delivered by DCW. They were given the opportunity to sign up to the training, which was a requirement before starting the placement. Seven people attend the informal session with six people signing up to the training. Five of those went onto the placements in the participating libraries in Bridgend.
The volunteer work placements enabled job seekers to volunteer up to 30 hours a week for six to eight weeks. They spent this time providing digital support to library users, gaining experience in helping someone to go online for the first time, as well as enabling each of the four libraries to promote the digital support offered. The volunteers had a specific role providing digital support to library users. They were also given a comprehensive induction into library functions and expectation of library staff, including training on customer service.
Impact of our support
All the volunteers where able to put into practice the learning they gain from the DCW training on supporting people to go online. One of the volunteers has gained employment post placement, whilst another of the volunteers further developed the training material, adding additional information to provide greater support in helping people to get online.
Since the initial pilot project, DCW, Bridgend Job Centre Plus, and Awen Cultural Trust have delivered a second project with three more job seekers going on voluntary work placements in Awen Libraries.
Elaine Winstanley, Library Manager and Libraries Strategic lead for Digital Skills, says that the voluntary work placements are going really well in the Libraries.
Since the being of the Pilot project, eight job seekers have being involved in the voluntary work placements in the libraries.
Debbie, one of the volunteers, said that she has really gain from her voluntary placement by helping a number of customers with their computer skills. She would really like to continue to volunteer past the six week placement.
"The staff really appreciate the volunteers being available to support library users with their digital needs. They have definitely added value to the service we provide in the Libraries, as some of our customers have also appreciated gaining up-to-date skills in applying for jobs."
Elaine Winstanley, Library Manager and Libraries Strategic lead for Digital Skills