VR technology triggers happy memories and new experiences for people with dementia
Older people living in Swansea have been using Virtual Reality (VR) headsets to go back in time to the sights and sounds of their youth. This has helped them connect and share their recollection of major national events with their friends and families, whilst maintaining their identities and reminding them of happy memories and positive emotions.
Why
People with dementia often find it difficult to connect with the present. Anxiety and confusion about what they're doing can be debilitating and distressing.
When Jane Thomas, Swansea Social Services Quality Assurance Officer, attended training from Digital Communities Wales, she was inspired by way that VR headsets could help improve quality of life for older people, including those with dementia. She decided to try this approach with service users in Swansea.
How
Jane initially used the headsets with older people in residential homes and those using respite, day and assessment services, including people who had dementia.
It was so successful, Jane asked DCW to deliver training to frontline staff in other social services teams, including those supporting people with learning disabilities, physical disabilities and sensory loss.
Social services bought ten VR headsets and are now using a range of content to improve the well-being of service users. Most successful has been a virtual reality film called "The Way Back", which recreates a street party celebrating the coronation in 1953. VR has also enabled people to experience going on safari, going under the sea, walking on the moon and taking a ride on a roller coaster.
Impact
One gentleman who lives with dementia tried out the VR headset and smiled saying, "It brought back memories of me smashing windows as a child and then running like hell. I loved it and couldn't get over it."
One lady reminisced about having time off school for the Coronation Day. She said, "We all went to our neighbours down the road. They had a TV so we could watch it. I loved to see the street decorated with the flags – lovely memories of special moments in time."
Another lady when moving through a living room scene in the film, noticed a baby wearing a hand knitted outfit. She said, "I used to knit them for my little ones when they were small."
People using the safari app experienced riding in a safari truck being followed by cheetahs. "He is going like the clappers," one lady exclaimed excitedly, "Oh, look at the elephants."
Many of the people who used the virtual reality headsets said that they felt it was true to life and a wonderful experience. They were immersed in the technology and embraced it immediately. It triggered personal stories and took them back to a time of happy memories, unlocking positive emotions and living in the moment.
This technology has given people a sense of freedom and wonder to explore the virtual reality world. People who used the VR headsets become more alert, engaged and uplifted as they recalled and shared happy memories from their past, enabling them to create meaningful connections.
These rich memories prompted storytelling and reminiscence where people were able to share knowledge and history with staff and others around them, gaining a sense of well-being and self-worth.
The pilot has been so successful that Swansea Social Service Adult Services is expanding the training and virtual reality experience across all of adult service provision. Digital Communities Wales has now trained 23 staff from the team who are putting into practise the use of the different technologies and apps within their services, including SEE AI apps which help people with visual impairment know what is around them in their immediate environment by describing the surroundings.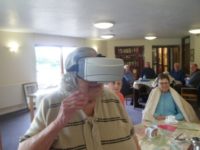 One lady reminisced about having time off school for the Coronation Day. She said, "We all went to our neighbours down the road. They had a TV so we could watch it. I loved to see the street decorated with the flags – lovely memories of special moments in time."