Digital Heroes Competition 2018/19
Showcasing the success of our nation's Digital Heroes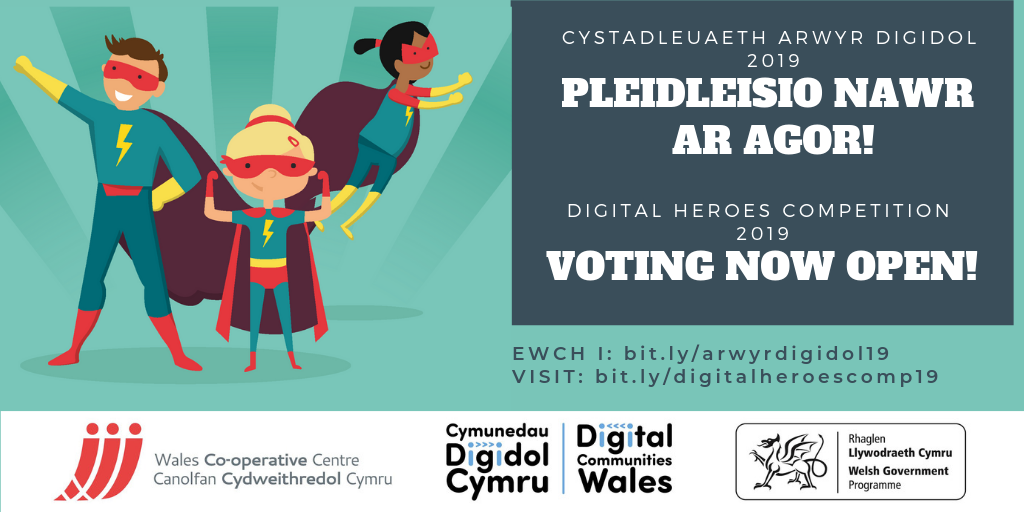 This academic year (2018/19) we launched our first ever Digital Heroes nationwide competition to promote the excellent digital volunteering work being delivered by 7-11 year olds across Wales.
Since the Digital Communities Wales project began in 2015, we have helped train over 2,500 Digital Heroes with skills to support others in the community to get online and use digital technology. We know how hard our Digital Heroes have been working and are so impressed by the impact they've been having within their communities that we decided to launch the competition to showcase their work.
We invited school's that have received training from our Digital Communities Wales project to produce a two minute video which demonstrates how they've put their digital volunteering skills into practice. Within this video, we asked our Digital Heroes to tell us:
Who have they helped within their community?
How has this changed their life in a positive way?
How rewarding was that experience? 
How have they worked together to achieve their mission?
Finalists 2018/19
We are delighted to our announce our seven finalists for this year's first Digital Heroes competition:
St Julian's Primary School, Newport
Eveswell Primary School, Newport
Georgetown Primary School, Blaenau Gwent
Ysgol Cwmnedd, Neath
Ysgol Santes Fair, Isle of Anglesey
Ysgol Pencae, Cardiff
Ysgol Gynradd Cymraeg Bronllwyn, Rhondda Cynon Taff
Please watch all the videos published below and vote for your favourite.
The school that receives the most public votes by the our closing date (Sunday 10th March), will be crowned our first 'Digital Super Heroes 2019'
Good luck to all our finalists.
Deadline for voting: Sunday 10th March
St Julian's Primary School, Newport
Eveswell Primary School, Newport
Georgetown Primary School, Blaenau Gwent
Ysgol Santes Fair, Isle of Anglesey
Ysgol Gynradd Cymraeg Bronllwyn, Rhonnda Cynon Taff
Deadline for voting: Sunday 10th March