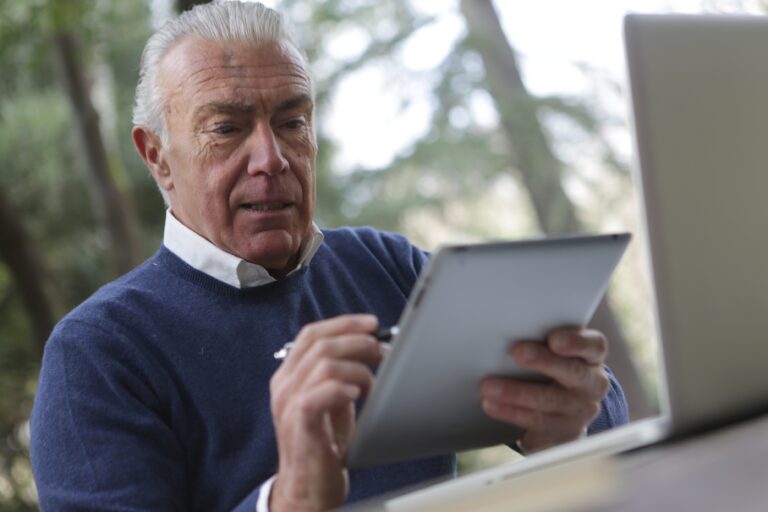 Thankfully, for many people, digital technology means they will be able to socialise online, shop for groceries, find health information and access resources and activities to keep them occupied during the COVID-19 outbreak.
For some however, particularly those who are elderly or vulnerable, this might not be the case. But we can all help support our colleagues, friends and neighbours who need help to use digital technology at this time.
At Digital Communities Wales we are working hard to develop online digital inclusion training courses, including webinars and digital surgeries, that might be vital to you and your service users going forward. In the meantime, please take a look through some useful resources we've compiled over the last couple of weeks to help get you started:
DCW webinars
At Digital Communities Wales we've been working hard to develop online digital inclusion training courses, including webinars and digital drop-in sessions, that might be vital to you and your service users going forward.
DCW videos
The aim of these short DCW YouTube videos is to give people a run down of simple yet effective things they can do with technology, from how to make sure their kit is clean, to keeping in touch using WhatsApp and exploring accessibility features.
DCW padlets
Your one stop shop for online resources during COVID-19 
To help our clients and end users stay connected, safe and well during this pandemic we have created four online padlets for you to use and share with friends, family and colleagues:
We use Padlet because the application is simple to navigate and allows us to group information according to its relevance to a topic. We can also update each Padlet page as soon as a new resource is discovered, so keep an eye out for daily updates.
For more information on our individually themed padlets see below:
In such unprecedented times it is all the more important that we keep in touch with friends, family and colleagues. In response to the UK Government's social distancing measures, we at Digital Communities Wales have highlighted a variety of communication apps and provided links to helpful tutorials to help get you started.
Supporting your Mental Health padlet
Supporting our clients and end users mental health and well-being is central to everything we deliver at Digital Communities Wales. As such, we a have compiled a list of apps, websites and activities that can support your mental health and well-being during this pandemic.
Lucky for us, we have a former teacher now working for us at DCW and he has helped us to create a padlet with some fantastic teaching and educational resources. With many children being home schooled during this pandemic, these free resources are aimed at helping parents to have some fun with their children while learning at the same time. From live streams of zoos to dance and fitness classes, there's something here for everyone. We will be adding links and resources as and when we find them.
If you feel there is a resource or website that has supported you during COVID-19, then please let us know and we shall test it out and add it to one of our padlets. 
Other useful resources
Learn my Way
The website contains over 30 free courses designed to help beginners get started with the online basics – using a mouse, keyboard, setting up email accounts and using internet search engines – while also offering plenty to help people develop their digital skills further. There are modules to help people make video calls, socialise online and shop online.
BT Skills for Tomorrow
BT Skills for Tomorrow aims to give people the skills they need to flourish in the digital world. Due to the spread of the coronavirus, having these skills is more important than ever.
Working in partnership with leading digital skills organisations, the BT Skills for Tomorrow has free resources and information to help people with each of these challenges.
Coronavirus scams prevention
The National Trading Standards (NTS) Scams Team has produced some helpful materials to help promote awareness around coronavirus (COVID-19) scams at this difficult time. As well as a helpful download on how to protect people and prevent them from becoming victims of online scams, the website also some useful training materials for people who want to become a 'Friend Against Scams'.
Become a Digital Companion
Digital Companions are people who support a friend, neighbour or family member to get online and use technology. If you know someone who needs one-to-one support from a trusted face, let them know you're willing to help them. Whilst you may not be support them face-to-face,  if they have the technology you can still talk them through simple tasks on the phone.
Digital Communities Wales – here to help
Digital Communities Wales and its team of expert trainers and advisors are on hand to help get your clients and service users online. We can provide advice via telephone or through video conferencing – just phone us on 0300 111 5050 or email digitalcommunities@wales.coop if you need our support.