DCW kit loan has significant impact on mental health services for older people
Cardiff and Vale UHB Occupational Therapy Unit borrowed tablet devices from DCW to use with patients on their mental health wards. Jayne Finch, Occupational therapy technician, describes the impact this had.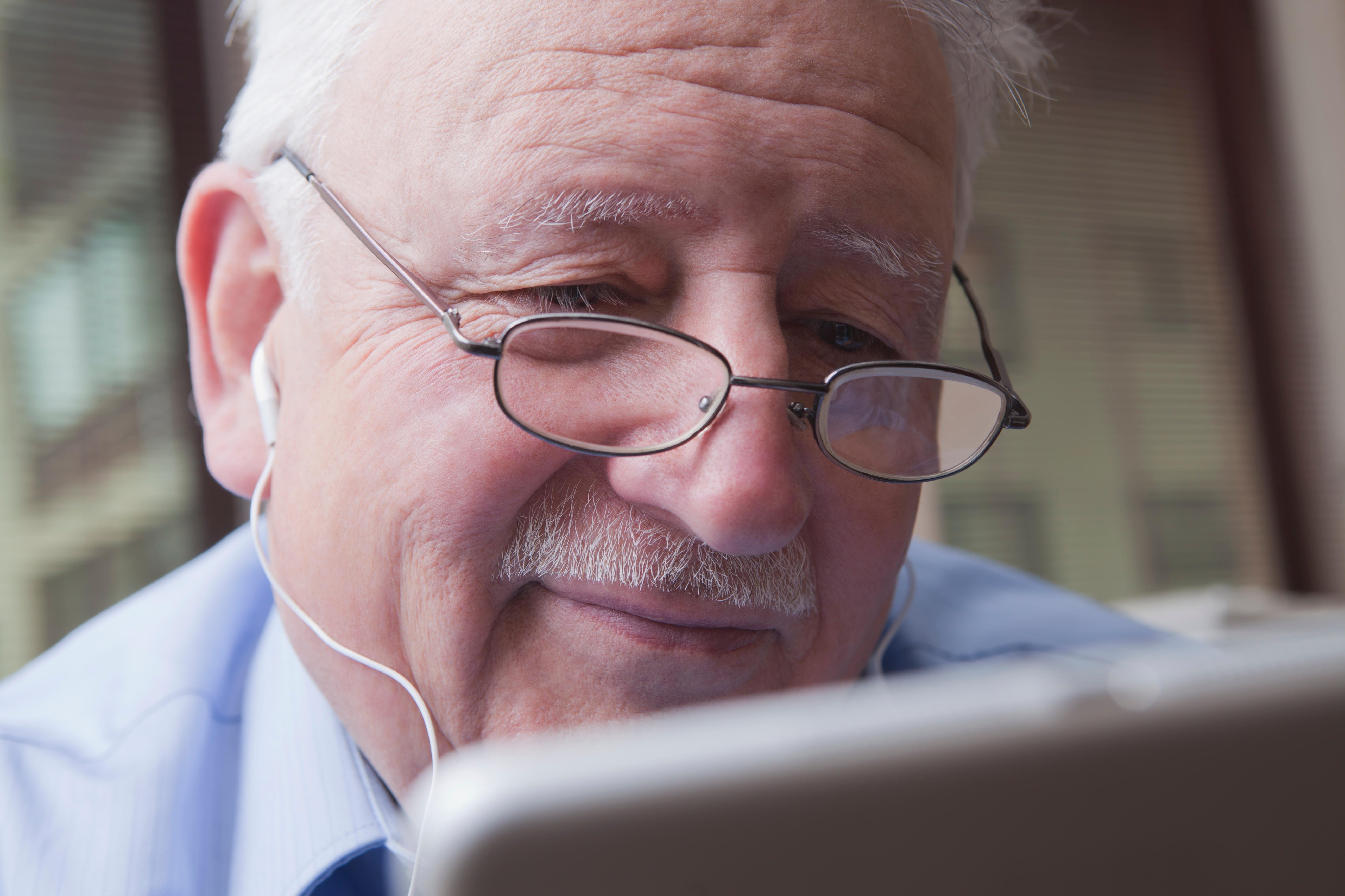 Who do you support and how many people?
We are an Occupational Therapy department based at MHSOP (Mental Health Services for older people). We work across various areas including five inpatient wards (organic/functional), young onset dementia and within the community. Our patients (approx. 60+) are widely varied with their mental health and physical ability. They tend to stay on our wards for 6 months plus.
What impact did the support of the DCW kit loan have on patients? How have the tablets been used?
The loan of the smart tablets has had a significant positive impact on not just our patients but their family members and us as a team.  We were loaned the devices just as the Covid-19 lockdown began. Before the kit loan we had one smart tablet to share within our team of 17 and 60+ patients.
All wards had a no visitor policy which not only meant no family visits but also it put a restriction on particular health professionals accessing the wards. With the loaned devices we were able to allocate a tablet to each ward which were then routinely booked out when required (daily). Being able to utilise the tablets during our planned interventions has had a calming effect for the patients during the majority of our sessions. We were able to use specific communication apps for patients with visual and hearing impairments, relaxation and sensory apps to relieve anxiety.
There have been numerous changes to the wards which unsettled a lot of the patients – as you can imagine it was a very difficult/overwhelming time.  Using the tablets during this period had a great impact on their well-being, allowing them to settle sooner while relieving any anxiety or agitation as the tablets were a distraction.
We began to set up video messaging for the patients and their families. Being able to keep that connection is vital for the well-being of both patients and their families and we received positive feedback from both sides. As a team we were able to connect with patients in the community again through video calls, with some members of the team offering virtual sessions such as Tai Chi. This reduced the feeling of being isolated as so many community services have ceased during lockdown.  As a team we also use the tablets for professionals meetings enabling us to adhere to the social distancing guidelines. They have also been used to set up skype meetings between patients and other professionals who have had restricted ward access.
How has the use of tablets made a difference?
One of the tablets was used with a patient with no previous experience of using a smart tablet at all. The staff member changed the settings to suit their needs (visually impaired) and supported them to research music on youtube. The patient has a passion for music and found the experience fascinating. The patient continues learning to use the tablet and looks forward to the twice weekly sessions.
One particular patient became emotionally overwhelmed (positively) after using the tablet to speak with his family whom he had not seen for over two months. This lifted his mood and eased his anxiety. The smart tablets have enabled us to continue these video calls weekly.
A patient's daughter could not thank staff enough after her first video call with her mother after not seeing her for nine weeks. The daughter said that just to see her mother's face while talking to her was so reassuring and she felt great relief that she could see her mother was doing ok. The patient was equally excited, as her daughter was able to show her via video her new landscaped garden which she plans to visit once discharged.
One particular patient can at times become overwhelmed and agitated throughout the day. We found that showing her videos of laughing babies on youtube lifts her mood and reduces her agitation. While watching the videos her face has a beaming smile and although her speech is limited she comments on "how beautiful the babies are."
A tablet was used with a patient who had not been engaging in activities. A sensory app called magic fluid was used. On seeing the fluid move around the screen the patient commented "that's good." They were the first words the patient had spoken in a long time.
A staff member used the tablet with a patient with a cognitive impairment. The staff member was showing the patient the daily news update. While looking at the tablet the patient commented "wow it's like a window to the world."
One of our functional patients wanted to write her memoirs. She wanted to use a Dictaphone which we did not have. She was able to use the voice memo on the tablet to make a start on telling her life story.
A staff member used a tablet for reminiscence. This particular patient had lived in various place abroad. The staff member was able to research the places he had lived including pictures and videos. The patient began to talk of the various types of food he had tried while travelling. The patient commented "This thing is good because between us we can put my memories back together, like detectives."
During sports reminiscence with the tablet a patient was amazed that the staff member was able to find video clips of football players he had watched playing decades ago and vocalised loudly and many times "This is magical." On returning to the day room he informed the other patients and staff members "I've had a wonderful day."
A patient and his family were able to skype before he sadly passed away.
As a department we are so grateful that we have these devices on loan from Digital Communities Wales. I cannot stress enough to you the difference it has made to our department. Before the loan we were struggling with one smart device. Having the extra devices has increased the level and quality of patient interventions. It has changed how we are able to carry out our interventions with the patients and how the patients actually engage during the sessions. I cannot put into words the feeling of witnessing the patients and their families video calling during lockdown. The loaned tablets are such a valuable resource and we thank you.