Technology brings generations together in Wrexham
Pupils from Ysgol Borras showed people at Cae Glo Residential Home how to stay safe online - with help from a giraffe, a cycle tour of Wrexham and Sweet Caroline!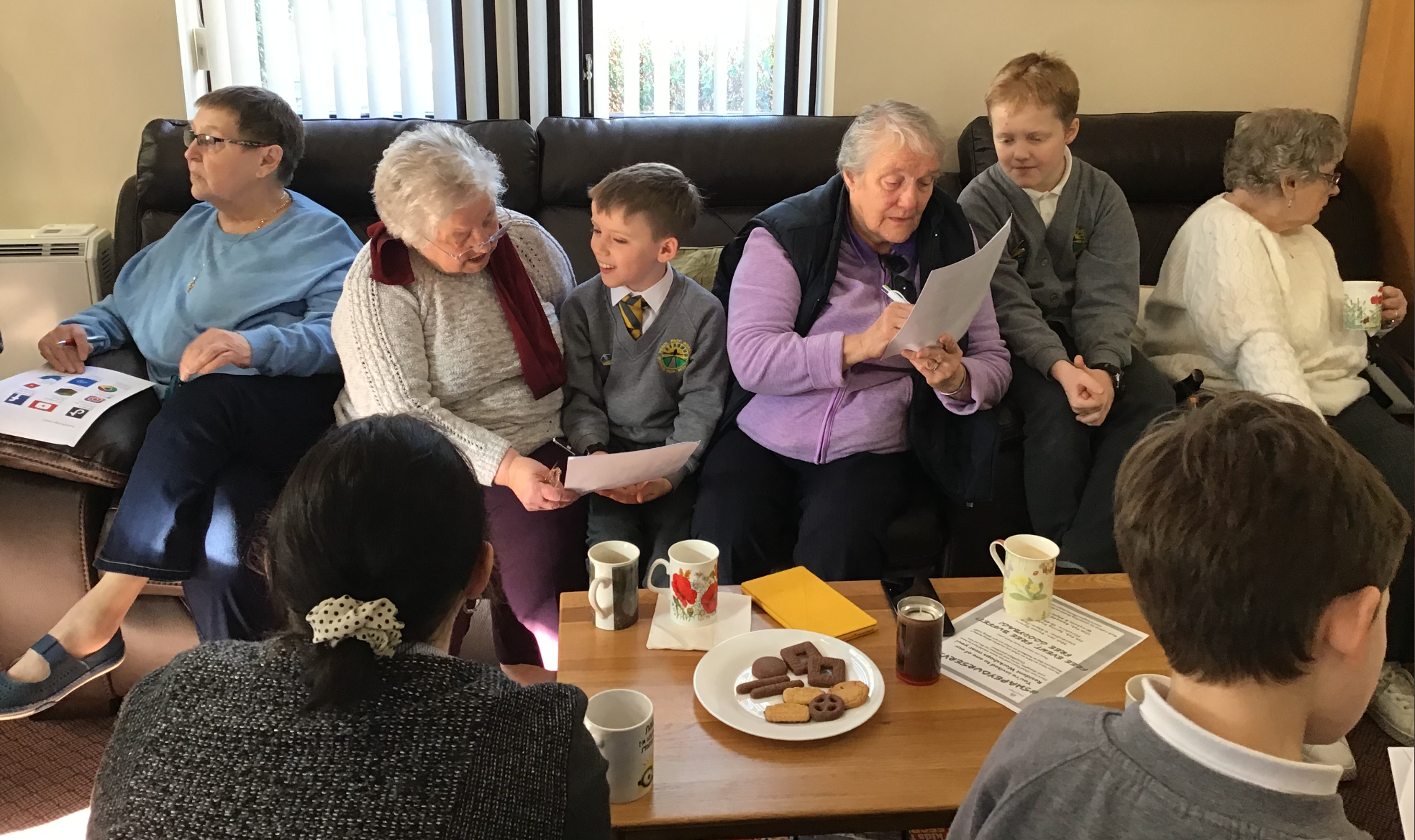 Why?
Cae Glo is a residential complex in Wrexham, for people over the age of 55 years.  As part of Clwyd Alyn's housing scheme, residents are able to participate in activities in the communal gardens and resident's lounge.   These activities are coordinated by staff on a regular basis, and after having enjoyed an intergenerational session with Ysgol Abermorddu last year, where the children demonstrated digital devices, the staff and residents were keen to learn more.  An invite to the e-cadets from Ysgol Borras was extended and the children were excited to visit with them.
How?
Ysgol Borras's e-cadets took part in Digital Communities Wales's Digital Heroes programme.  This session was less about teaching tech, which the children were already very knowledgeable about, and more about understanding inclusion.  The children discussed the barriers which older people may face when it comes to accessing and using technology, and they sought ways to support, reassure and educate people who are afraid of using the internet, and digital devices.
Having recently developed and delivered a presentation about online safety for their school, the children decided to open their session to Cae Glo's residents with this insightful, well-researched presentation.   The e-cadets gave advice on passwords, safe browsing, social media and privacy.  This was followed by a demonstration of the Oculus Virtual Reality headsets which was loved by both generations and featured a virtual trip to a penguin enclosure and a hello from a giraffe on safari.
The session with the children finished with a quiz, testing the resident's knowledge on logos for online applications.  The children all thoroughly enjoyed their visit to Cae Glo.  Their enthusiasm, knowledge and behaviour was a credit to their school.
Following on from the children's successful visit, Clwyd Alyn invited Digital Communities Wales back the following week to deliver another session.  This time, trainer Deian and Advisor Simon treated the staff and residents to a morning of reminiscence, virtual reality, a VR bike experience and of course, a good ol' sing-a-long.
Deian showed the residents video footage of days gone by across north Wales, using videos from the national archives.  The residents loved discussing the places they'd been to, childhood memories and holidays they'd taken in the places featured on the films.
Next, the residents were able to take a virtual trip to the beach, a waterfall and a forest using films created by Simon using a 360 camera.  Simon's prototype of a VR bike was also a big hit, with one resident moved to tears as she 'visited' her childhood home.  The bike was created to be static, and used from the comfort of the individual's chair.  As the person peddles, the screen in front of them shows their journey using Google Maps.  The VR bike is intended to offer low level fitness activity, with the distraction and interest of visiting any place in the world.
The residents were invited to round up the session with a sing-a-long of Sweet Caroline, and other songs of their era. One resident remarked that it was the best session she had ever been to.
Impact
The staff and residents of Cae Glo enjoyed the sessions so much that they have extended further invites for intergenerational & VR events across their other north Wales sites.  Ysgol Borras have further events planned across Flintshire and Wrexham and we look forward to partnering with them to deliver these.
Louise Blackwell, Activities co-ordinator for Clwyd Alyn said:
"I want to say a massive thank you to Digital Communities Wales and Ysgol Borras Primary. They have done such a wonderful session for our residents, teaching us how to stay safe online, with a safer internet presentation and easy tips that our residents can use."