Technology helps create a happy, friendly environment at Ty Gwyn Care Home
Ty Gwyn care home supports 55 adults who have a variety of complex medical diagnoses, including dementia and sensory deprivation. By working with DCW, it improved the digital confidence of both staff and residents and saw a range of well-being improvements as a result.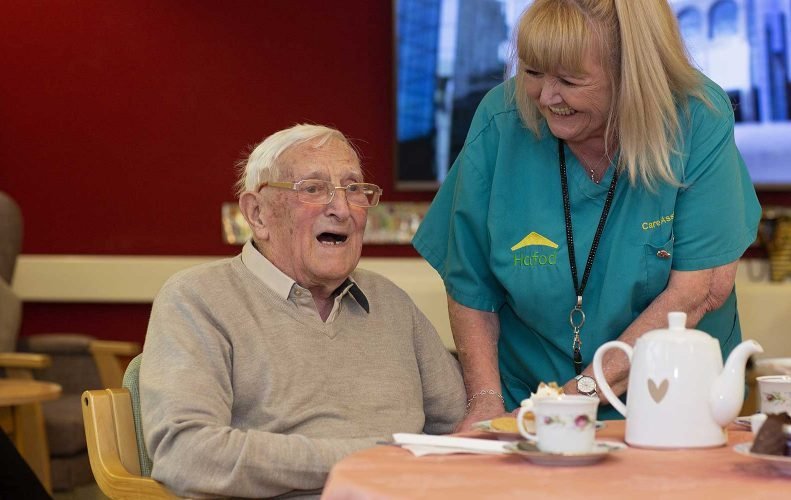 Why?
Ty Gwyn is a residential care home in Cwmbran run by Hafod Care. Its staff pride themselves on providing a happy, friendly and warm environment that lets residents be as independent or involved as their needs and wants allow.
Like many professionals working in the social care sector, the team were aware that digital technology can have a range of health and well-being benefits for people. This is especially true amongst older people and people with long-term health conditions. So they were delighted to work with DCW to develop digital activities throughout the home.
How?
To get things started, six members of staff from Ty Gwyn took part in training offered by DCW. The session, Inspiring Digital Activities, opened their eyes to the possibilities offered by digital technology to improve the lives of residents.  The team were then loaned devices including a VR headset, tablets and an Echo Dot for three months so they could try out different activities with the residents. Finally, DCW signposted staff to a range of online resources which they could use to develop digital activities.
Impact
From enjoying puzzles and crosswords online, to finding out the latest news headlines, residents at Ty Gwyn enjoyed using the technology in many different ways.
The VR headset was especially useful in the dementia unit – Manager Tracey Webb observed that it was lovely to see the residents using the headset and laughing with staff.  The Echo Dot enabled people in the residential unit to check the weather and the news headlines. When visits and trips were being organised, people were encouraged to use it to find out more about where they were going.
For staff at the home, the loan of equipment meant they were able to trial different activities and see what worked. They were then able to put together a more compelling business case to purchase their own equipment which best met the needs of residents.