Digital Communities Wales – an overview
Digital Communities Wales: Digital Confidence, Health and Well-being exists to reduce digital exclusion in Wales. We want a Wales where everyone has the skills, access and motivation to be a confident user of digital technology.
Who do we work with?
Our delivery focusses on reaching anyone who is not online. We know that the best way to reach these people is to work with organisations that directly support them. We work with Third and Public Sector bodies and large Private Sector organisations, including health and social care providers.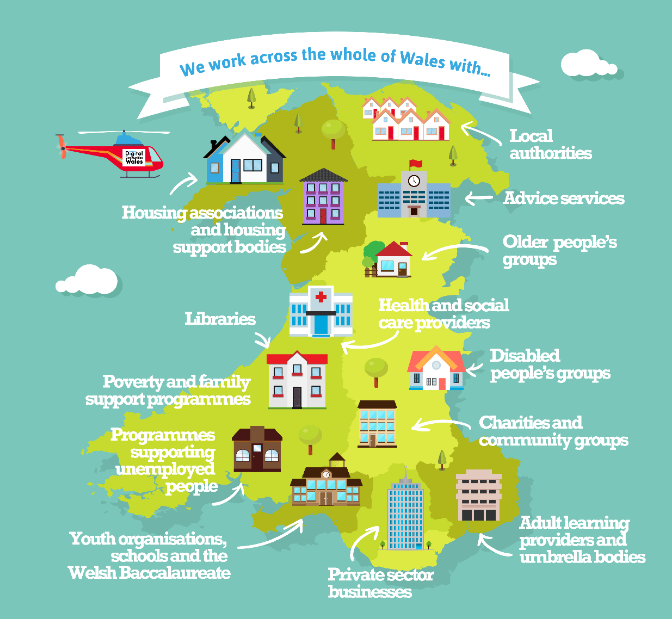 Supporting the health and care sector
Our role supporting health and care providers is especially important. We are working with all 7 Health Boards to:
Support clinical staff and other health professionals to develop their digital skills so that staff can act as digital champions and recommend digital skills to their patients.
Link health, care and social service organisations with a range of community partners to improve availability of digital inclusion support.
Provide resources and training to establish a network of Digital Champions amongst health and social care staff.
Build a Digital Health Information Network of community providers who can offer face-to-face support to help people improve their skills
---
Our objectives
We will:
Work intensively with targeted organisations to co-produce approaches that engage directly with people requiring basic digital skills support.
Build and strengthen strategic relationships as a route to embedding digital inclusion activity across Wales.
Support Health Boards in Wales to engage staff and volunteers with technology to improve health outcomes for patients.
Support public and third sector organisations to embrace and embed digital inclusion into their strategies and practices.
Promote and increase basic digital skills volunteering across Wales.
Work with each Local Authority in Wales to embed digital inclusion into their service delivery, with a focus on Social Care.
Engage with the private sector to embed digital inclusion activity into their services and training staff as volunteers.
Create, develop and share training resources and toolkits to support digital inclusion with a focus on health and social care.
Increase number of Online Centres and take-up of Learn my Way in Wales.
Who delivers Digital Communities Wales?
Digital inclusion in health and care