Good Things Foundation: The Economic Impact of Digital Inclusion in the UK (2018)
A report by Cebr for Good Things Foundation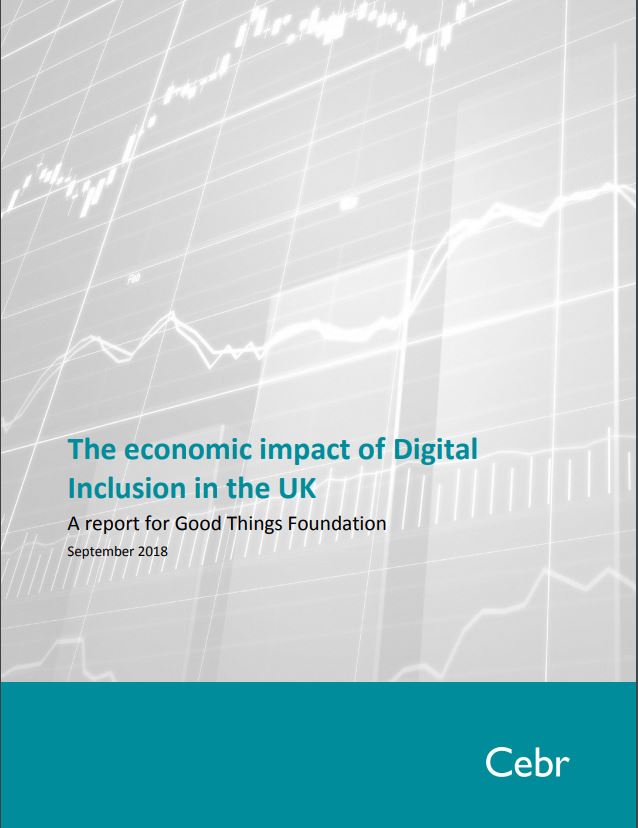 This report is an update of Cebr's 2015 study on the economic impact of Basic Digital Skills and inclusion in the UK. As before, the purpose of this research is to establish the likely investment required in order to achieve a fully digitally included society and to estimate the benefits that will result, for individuals, government and society as a result of the initiative.
There is a clear digital divide in our nation, which is harming those who are left behind and holding our economy back. By 2028, we'll be missing out on almost £22 billion of value as a direct result of digital exclusion.
Helen Milner, Chief Executive, Good Things Foundation
A report from the House of Commons Science and Technology Committee estimates that the digital skills gap is costing the UK economy £63 billion a year in the lost potential for additional GDP.
Report
When all costs and benefits to individuals, businesses and the Government are taken into account, we estimate the NPV for the 10 year investment [in digital inclusion activities] to be £21.9 billion and the CBR to be 14.8. This implies a benefit of almost £15 for every £1 invested.
Report