Report: Digital Age – New approaches to supporting people in later life get online (Centre for Ageing Better, 2018)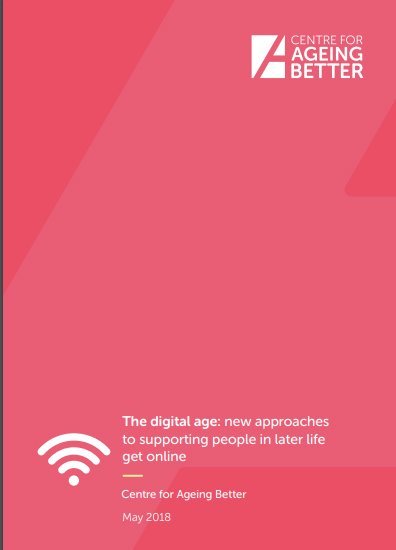 This Centre for Ageing Better (using research from the Good Things Foundation) report looks at the changing picture of digital inclusion later in life.  It looks at the barriers and what can be done to improve support for people.
Published: 05/2018
4.2 million people over the age of 55 have never been online. Over 55s make up 94% of everyone who has never been online (4.5 million people), and a further 684,000 used to be online but no longer are.
Report Quote
People – who are already likely to be poorer, less well educated and in worse health than their peers – are at risk of being left on the wrong side of the digital divide, as more services and information move online.
Report Quote
"I wanted to know more about the internet, computer system, because I depend on my kids a lot and sometimes they don't have the time to advise me or to show me what to do."
Report Quote