About Digital Communities Wales
Who delivers Digital Communities Wales?
DCW is a Welsh Government funded programme which is delivered by Cwmpas in partnership with the Good Things Foundation and Swansea University. The programme began in 2019 and will run until June 2025.
Cwmpas
DCW staff based at Cwmpas deliver bespoke support to organisations to help them embed digital inclusion into their strategies and practices. The team also coordinates a range of volunteering initiatives to increase basic digital skills volunteering across Wales.
Cwmpas (formerly Wales Co-operative Centre) has been delivering digital inclusion programmes in Wales since 2005 (including Communities @One and Communities 2.0) with the aim of providing people with the skills and confidence to feel more included and to take more control of their own lives.
We work alongside communities on the issues that matter to them. By doing so we want to change the way that society works, so that people and communities no longer feel left behind. We target our resources at individuals and communities that need help the most.
Good Things Foundation
The Good Things Foundation manages a network of Digital Inclusion Hubs (formerly known as UK Online Centres) where people can use a computer and get support to develop basic digital skills. Click here to view the services available at a Hub near you. It also publishes digital learning resources on the Learn My Way platform and leads on the national UK campaign, Get Online Week.
Swansea University
Swansea University is our research partner, disseminating our learning and stimulating debate around policy in this area. We work specifically with the University's school of Management and its Morgan Academy to enlist the support and expertise of leading thinkers and experts in the field – in particular Professor Tom Crick MBE and Professor Hamish Laing.
Our objectives
We will:
Work intensively with targeted organisations to co-produce approaches that engage directly with people requiring basic digital skills support.
Build and strengthen strategic relationships as a route to embedding digital inclusion activity across Wales.
Support Health Boards in Wales to engage staff and volunteers with technology to improve health outcomes for patients.
Support public and third sector organisations to embrace and embed digital inclusion into their strategies and practices.
Promote and increase basic digital skills volunteering across Wales.
Work with each Local Authority in Wales to embed digital inclusion into their service delivery, with a focus on Social Care.
Engage with the private sector to embed digital inclusion activity into their services and training staff as volunteers.
Create, develop and share training resources and toolkits to support digital inclusion with a focus on health and social care.
Increase number of Online Centres and take-up of Learn my Way in Wales.
Who do we work with?
Our delivery focusses on reaching anyone who is not online. We know that the best way to reach these people is to work with organisations that directly support them. We work with Third and Public Sector bodies and large Private Sector organisations, including health and social care providers.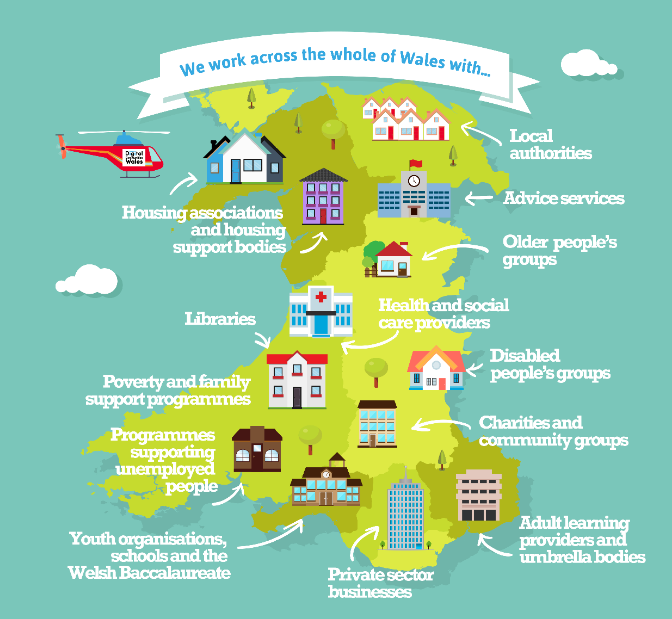 Supporting the health and care sector
Our role supporting health and care providers is especially important. We are working with all 7 Health Boards to:
Support clinical staff and other health professionals to develop their digital skills so that staff can act as digital champions and recommend digital skills to their patients.
Link health, care and social service organisations with a range of community partners to improve availability of digital inclusion support.
Provide resources and training to establish a network of Digital Champions amongst health and social care staff.
Build a Digital Health Information Network of community providers who can offer face-to-face support to help people improve their skills
More on Digital Communities Wales