Digital Strategy for Wales: Mission 2 – Digital Economy
Post by Lee Waters MS, Deputy Minister for Economy and Transport
As I've already said in my first blog, digital is not just about technology – it's about people. The future of our economy is no different.
As we emerge from the pandemic and exit the EU, digital innovation will continue as a disruptive force in our lives. But this disruption has benefits. It will release people from mundane tasks so they can be more creative and productive. It will support higher skilled jobs of the future. It will open new markets for trade. It will help drive a well-being economy for the people and businesses of Wales.
Digital innovation is also changing the world of work and our economy. Professor Phillip Brown recognised this in his review for government – 'Review of Digital Innovation'. This change is irreversible. We must embrace the benefits of digital innovation and automation, building a prosperous and healthy modern economy in Wales.
This Digital Strategy is designed to support these ambitions.
That is why our second Mission is to:
Drive economic growth, productivity and resilience by embracing and exploiting digital innovation.
So, what will we do?  
We will capitalise on opportunities to exploit new technologies as a catalyst for investment, and to attract new talent to Wales. Taking on Professor Brown's recommendations to accelerate industrial transformation, a focus of our action will be to encourage the evolution of digital innovation clusters. This will include working with industry, research institutions and other stakeholders to co-produce the partnerships that these clusters will need to thrive. For example, I'm excited at the proposals being put forward by the higher education sector in Wales for a Data Nation Accelerator, bringing together their capability with industry and the public sector to fuel innovation in data and AI.
We will support businesses in developing their workforce skills for the future, exploiting the shift we are seeing in the demand for Cyber and Artificial Intelligence skills in Wales.
As I have previously stated, we will support the growth of the digital economy in Wales by encouraging people to work flexibly and remotely, to help drive regeneration and economic activity in communities. This will enable workers to maintain productivity while encouraging a better work life balance.
In a later blog, we'll discuss connectivity and the infrastructure that we want to develop and capitalise on to give businesses the best support they need to deliver our digital economy ambitions.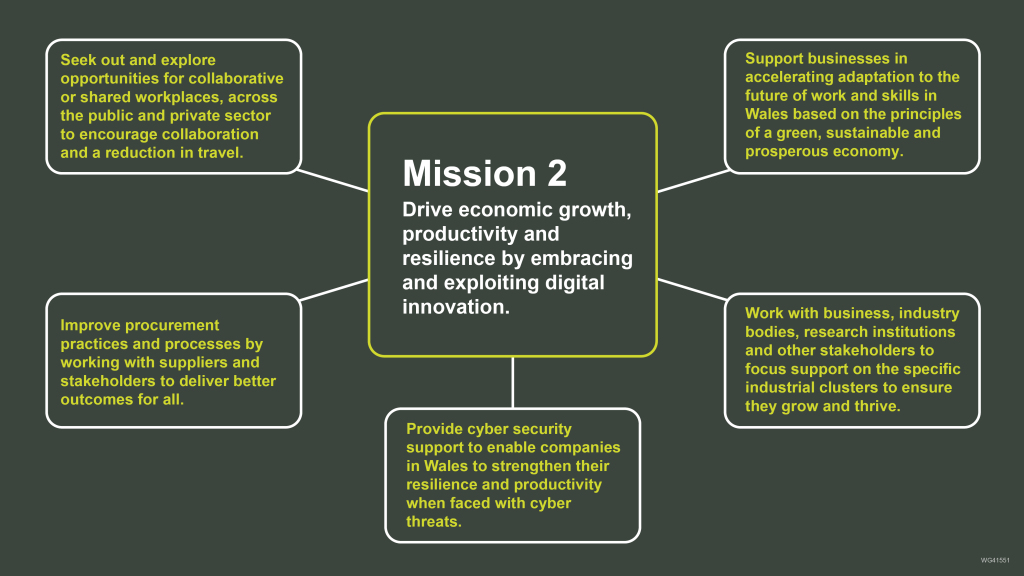 What will be different?
Our aim is to deliver this set of outcomes:
A thriving digital business sector and community, with a mixed ecosystem of small, medium and large technology-based companies.
An ability to capitalise on new areas of digital innovation, to stand out in global competition for new markets and industries, and attract new talent to Wales.
People have the skills to be able to take the jobs of the future and employers will have a pipeline of talent for digital, data and technology careers.
A balanced and diverse workforce in the digital economy.
A range of digital tools and technologies being used to build a more sustainable and efficient community, with a reputation for leading on innovation.
The adoption of the best procurement practices that will play an important part in moving Wales forward and supporting this strategy.
A reduction in carbon emissions from reduced commuting and a resilient workforce capable of responding quickly to major crises.
A plan for delivery
As described in our earlier blogs, to achieve these outcomes we need a clear plan for delivery. Work has already taken place to identify some of the actions that are needed and what needs to change. These actions in this Digital Strategy will support the activity which are being taken forward as part of the economic recovery. This is our first iteration of a delivery roadmap for this mission. It will be a living document and progress against them will be monitored and reported.
Getting your feedback
We'd love to hear what you think about our ambitions in this mission, the outcomes we want to achieve and how we plan to deliver them. For example,
Do you think that these are the right outcomes?
What do you think the barriers might be?
Do you think there are any gaps and, if so, what are they?
If you had to prioritise, what would your top 3 priorities be?
What examples have you seen in Wales, or outside Wales, of industries using transformative or disruptive technologies to drive productivity or resilience?
What changes or improvements do you think businesses could make quickly to kick start their move towards increased adoption of digital technologies?
Keep an eye out for the next blog on the Data and Collaboration Mission, coming soon.