Meet the Digital Leader: Scott Tandy – Community Regeneration Officer, Newydd Housing Association
Scott Tandy talks about his time with Newydd Housing Association, supporting tenants to get online, the 'digital bench' youth design project for charging devices in public while providing emergency shelter for the homeless, getfit.wales and utilising the 'Loan IT' scheme to reduce barriers for access to digital equipment.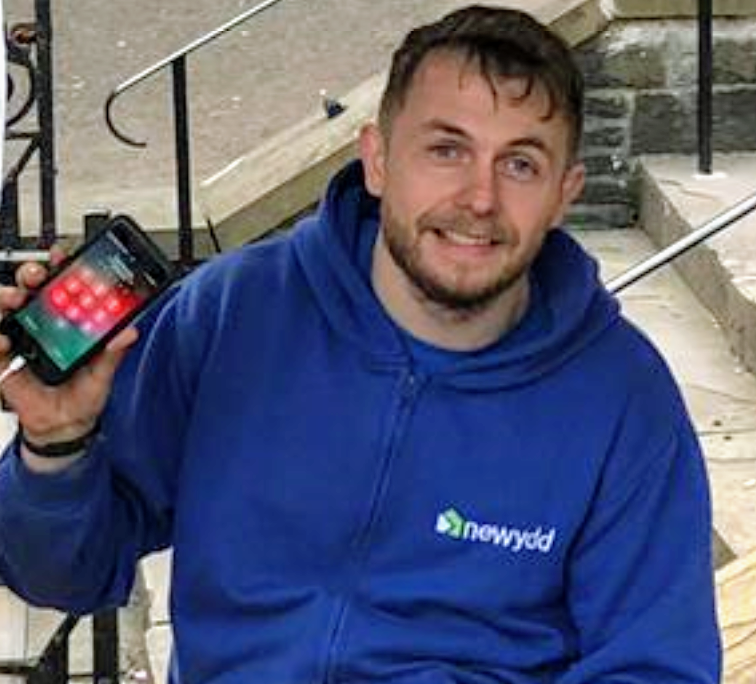 How long have you been involved in digital health/inclusion and what positions have you held?
I started employment with Newydd in 2010 as a Scheme Coordinator for one of our sheltered schemes in Penarth. I moved into my current role in 2014 where I led Youth Engagement and Digital Inclusion for a number of years. More recently, my role has focused solely on Digital Inclusion where my responsibilities are to work with partners to provide digital provision through libraries and community hubs, support our tenants to access digital equipment and internet through our 'Loan IT' scheme, run 1-1 digital and universal credit sessions, install smart technology in communal areas of our sheltered schemes, support the role out of our 'My Newydd' self-service portal, and work with partners to increase physical activity levels and make participants aware of local health provision through the promotion of getfit.wales.
What has been your proudest moment while in the sector?
My proudest moment so far has been supporting a group of young people in Rhydyfelin with their idea of a digital bench. It took us two years from the initial idea to complete this project as we wanted to build something that would allow the user to charge digital devices freely through the use of solar technology whilst offering emergency shelter for street homeless.
In order for the young people to work on all areas of this project, I collaborated with a number of partner organisations who taught them essential skills to fulfil the requirements set out in their designs.
The 'digital bench' is currently situated on the grounds at St. Catherine's Church, Pontypridd. Feedback from staff and volunteers at the church has been very positive with them saying that everyone from school pupils, local staff, homeless people and members of the general public have been seen using the digital charging facilities.
What do hope to achieve during your tenure?
I would simply want Newydd tenants and members of the communities in which we operate to have access to digital equipment, training and resources – enabling them to access information, services and jobs in order for them to live their best life.
In your experience, what are the biggest barriers to those in need getting access to digital health and/or inclusion provisions?
Feedback from tenants suggests the biggest barriers to digital inclusion are access, cost and confidence. We at Newydd have tried to tackle these issues in a number of ways.
To reduce barriers to access and address the cost of purchasing digital equipment and getting on the internet we set up our 'Loan IT' project. The project looks to provide digital equipment (laptop, tablet and dongles etc.) to tenants for up to one month to increase confidence with digital devices and accessing the internet. Along with this we also direct the tenants to the nearest digital support provision for them to learn how to make best use of the equipment and access the internet confidently and safely.
As a result of borrowing equipment and participating in this, we have found the users' confidence and motivation increases. Furthermore, by getting access to the equipment and internet at home, it helps our tenants decide whether or not to purchase their own digital devices and/or get an internet connection following the loan period.
Due to the success of this project, I am working with Danielle Roberts at Digital Communities Wales and partners from the Get The Vale Online group to develop this project across all the libraries in the Vale of Glamorgan. Once launched, this will mean members of the library will be able to borrow a tablet with internet connectivity in the same way they borrow a book. We hope that by setting this up, members of Vale of Glamorgan library service can benefit from such access to digital devices and the internet.
The ability to access the internet confidently is a major problem for many of our tenants at Newydd. To help reduce this fear, I have worked with a number of partners and am supported by a number of digital champions to set up digital support provision across all the libraries in the Vale of Glamorgan and Rhondda Cynon Taf. I understand not everyone can get to the library to access digital support and as such, have also set up 1-1 digital home support. This project has been hugely popular with Newydd tenants and members of the community. Some truly incredibly stories have come out of this project which is a huge credit to the level of support and service provided from the digital champions and partners.