Get Online Week 2023: Host an event to get your community online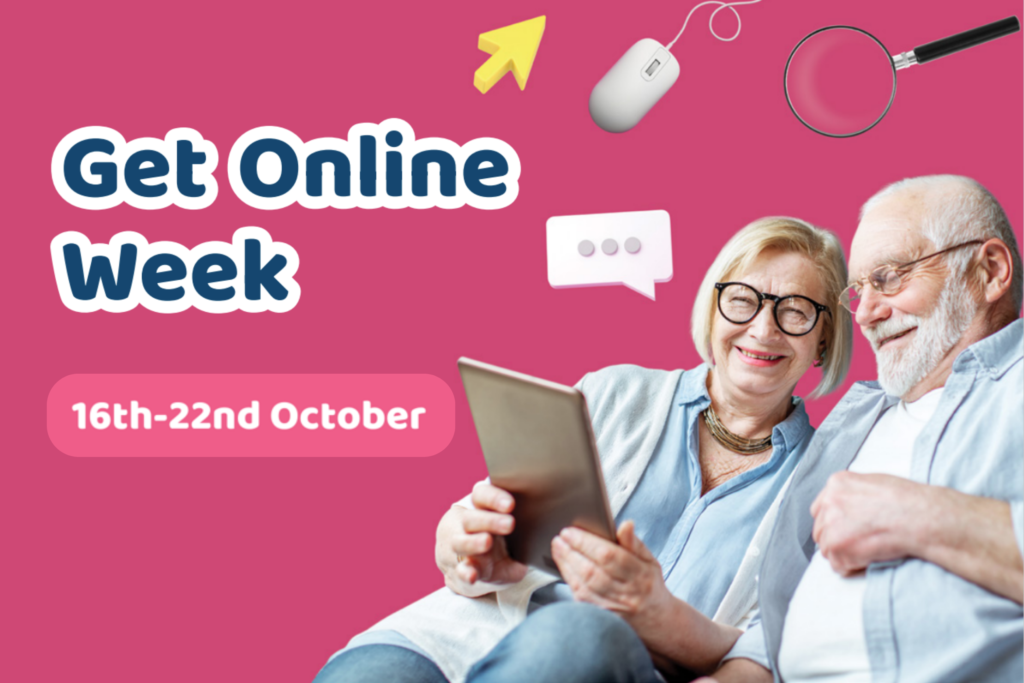 Mark your calendars for 16-22 October 2023. Get Online Week is back. This year the UK-wide digital inclusion campaign wants to help you host an event to elevate your community's digital skills, whether that's a lively in-person gathering or a virtual get-together.
What is Get Online Week?
Now in its 16th edition, Get Online Week is masterminded by digital inclusion charity and Digital Communities Wales: Digital Confidence, Health and Well-being project partner, Good Things Foundation. As well as leading the annual campaign celebrations, the organisation also powers the National Device Bank, National Databank, Learn My Way and the National Digital Inclusion Network.
Why is Get Online Week important in Wales?
In Wales, the importance of Get Online Week is significant. Right now, there is still 7% of the Welsh population, equivalent to around 180,000 individuals, who are digitally excluded. The consequences are far-reaching with a lack of digital skills, confidence and access putting people at risk of being left behind, unable to gain access to the many benefits that digital connectivity and confidence offers. From keeping up with loved ones, developing passions and hobbies, to gaining employment opportunities, and accessing health and care services, the cost of digital exclusion limits potential for growth and participation in the modern world.
At Digital Communities Wales, we find time and time again that often people start becoming regular users of the internet when they find their 'hook'. Enter Get Online Week – a prime opportunity to help individuals in your community find what resonates with them online. By hosting an event you hold the key to igniting enthusiasm, and maybe even a lifelong interest in all things digital.
Get involved: host an event
If you're a community organisation or part of the National Digital Inclusion Network, you can use the campaign as an opportunity to host an event and promote the work you do to your local community. It's easy to get involved and there are plenty of resources to support you!
Stuck for ideas? Visit Get Online Week's event ideas webpage, where you find inspiration from ten concepts for an in-person event and five for hosting an online event.
Once your vision takes shape, it's time to dive into planning and promotion. Get Online Week have you covered here too. Visit their event resources webpage for guidance around planning your event, and download physical and online marketing materials, in both Welsh and English, to help you spread the word and align yourself with the campaign.
Now, ready to make things official? Register your event with Get Online Week and secure your spot on the campaign map!
If you're hosting an event in Wales, don't keep it a secret! You should let us know at Digital Communities Wales. We can help you promote your Get Online Week event through our network.
What Digital Communities Wales is doing to celebrate
At Digital Communities Wales, we're hosting three free online digital skills sessions for Get Online Week – and we're inviting you to get involved. Find out more below and click on the links to register. For full event descriptions, visit our free digital skills sessions webpage:
Helping people to get online – 16 October 2023 | 14:00-15:30
Understanding and protecting yourself from misinformation online with NewsGuard – 18 October 2023 | 10:00-11:30
Inspiring Digital Activities – 19 October 2023 | 10:00-11:30
Spread the word
You can get involved with Get Online Week by: