Leaving no one behind: How veterans are supporting each other to get online
Hafal/Adferiad Recovery write about the organisation's recent work with Digital Communities Wales to improve the digital skills of veterans.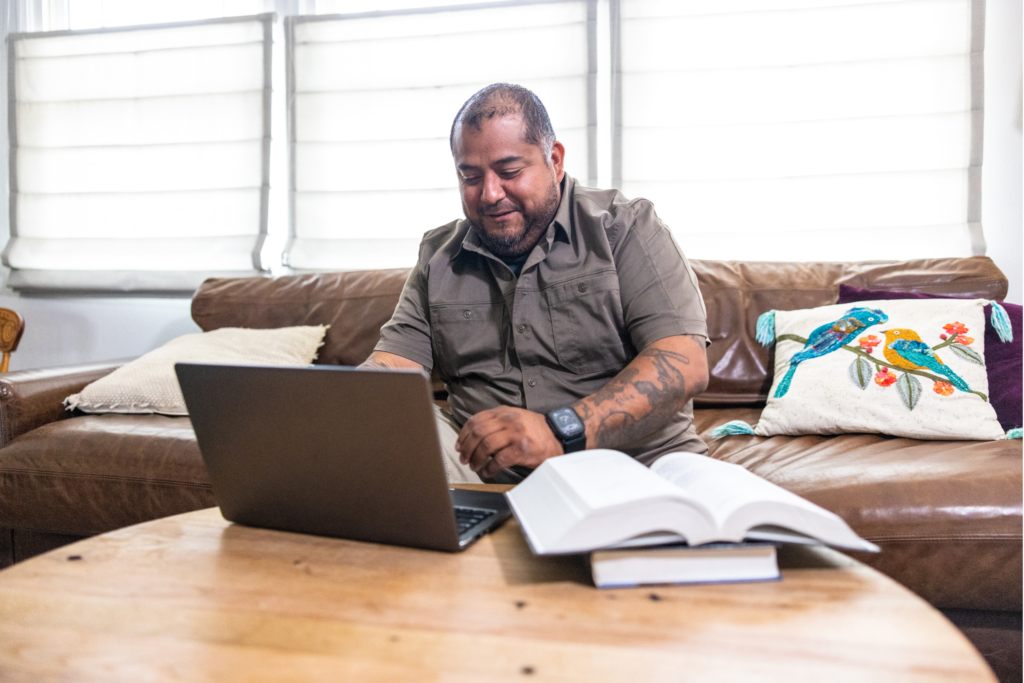 Hafal/Adferiad Recovery has set out to improve the digital skills of ex-members of the armed forces. The aim was to give veterans another platform to reduce isolation, which is especially needed for veterans living in rural areas, where there may be limited access to in-person support networks.
Hafal/Adferiad worked closely with Digital Communities Wales on the project, who delivered a free six-session online Digital Champions course through the veteran led network in Wales.
More than thirty veteran volunteers undertook the training, with the majority completing at least four modules. Over half of those involved completed the full course to become fully trained Digital Champions.
The sessions were also recorded and offered online to veterans who could not attend the live sessions but wanted to access the training in their own time. Digital Communities Wales subsequently offered all veteran volunteers the opportunity to do further free training if they wished.
One participant wrote of the Digital Champions training:
"An excellent training opportunity to train as a Digital Champion to help others in the Veteran community. Assisting individuals to gain and develop their confidence, using digital technology, safely and effectively both at home and in the workplace. The training helped me to buddy up with individuals during lockdown restrictions who wanted to improve their skills and overcome fears and build confidence in using digital devices. I felt that helping others contributed to positive mental health and wellbeing and at the same time providing social inclusion and interaction."
What the Digital Champions did next
Initially, Digital Champions worked within their own environment, supporting veterans in the organisations where they were employed or volunteered.
Veterans needing to improve their digital skills who had seen the programme promoted through social media also contacted Hafal/Adferiad for digital support. Veterans were then introduced to a Digital Champion in their area, who was able provide support going forward.
Levelling up basic digital skills
As COVID-19 restrictions lifted, Hafal/Adferiad found that increasing numbers of veterans were requesting face-to-face support with digital. One of their Digital Champions reported that, although competent with their mobile phones, some of the veterans in the organisation where she volunteered struggled with basic IT functions such as Zoom and Teams.
However, having trained as a Digital Champion, she explained that she was able to work with each of them, helping them access Zoom for their online breakfast club. This volunteer has since provided support to help other veterans use their laptops for online shopping, sending emails, and staying in touch with family and friends. One veteran commented:
"I was a little apprehensive in the beginning but soon got into it. The course has helped me in the following. I can email. I have completed two zoom meetings. I have successfully shopped online which before would never have attempted now having greater understanding don't find it such a challenge. The learning was fine to follow and has kicked me into the 21st century. Thank you so much for giving me this opportunity".
New beginnings
It was also reported that, having learnt to use video conferencing functions, one North Wales veteran, in a very rural area, was enabled to continue with his mental health therapy online; removing the need to use unreliable public transport, friends, and relatives to get to appointments.
A tablet provided to an unemployed veteran in North Wales enabled him to access appropriate online courses and the mental health support he required through Zoom. This in turn led to him starting his own business. Finola Pickwell, Adferiad/Hafal Recovery's Joining Forces Coordinator, reported that this veteran "is doing really well with his mental well-being and has a new lease of life with his new venture".
Connecting with friends, family, and community
One veteran, who learned how to use video conferencing through the Digital Communities Wales Essential Digital Skills course, was reduced to tears after not just talking to, but seeing his six-year-old granddaughter for the first time (other than photographs) as his son and family now live in New Zealand.
Another veteran told how he is now able to spend the full day with friends at the day centre as he does his weekly shop online. Previously he had to leave the centre to do his weekly shop.
Digital Champions are also benefiting from the programme, with one reporting that being available to support others has improved her connections to the community. Having volunteered at a local veterans' hub, and through attending the Digital Champions course, she met veterans from other areas and was made aware of other veterans' hubs and organisations. Consequently, she now regularly attends other hubs and has made new friends, as well as being able to improve the digital skills of veterans in other areas.
Digital device loans
Several veterans expressed their gratitude at being offered the opportunity of a loaned device, which not only enabled them to take part in the DCW courses, but also allowed them to see which device best suited their needs before making a purchase.
Change Step, an organisation for veterans that work with Hafal/Adferiad, reported that the digital devices that they were loaned for free by Digital Communities Wales had proved very useful in enabling them to offer therapy sessions online, creating value for those who they are supporting who live rurally. As a result of this partnership, Hafal/Adferiad was asked to present at a Tech Quest for Social Good session as part of Digital Leaders Week 2021.
Conclusion
Overall, we're delighted with the progress of the Digital Champions programme for ex-armed forces members. With continued support and tuition from Digital Communities Wales the successful project can continue well into the future.
Cadi Cliff, Programme Manager at Digital Communities Wales said:
"It's encouraging to see the Digital Champions model having such a positive impact on the lives of veterans that Hafal/Adferiad Recovery supports. We're especially thankful to the people able to volunteer their time to help others learn digital skills as Digital Champions. Without their enthusiasm and desire to share skills with their communities, it would be much more difficult to reach the most digitally excluded in Wales.
"Our Digital Champions programme can be adapted to suit the needs of organisations cross-sectors wanting to improve the digital skills of staff, volunteers, or those who they support.
"To find out what a Digital Champions programme could look like for the people you work with, fill out this contact us form or email digitalcommunities@cwmpas.coop"